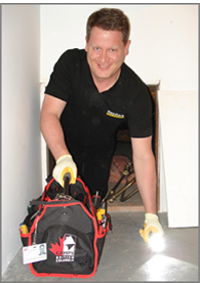 "I enjoy my work and getting to help people at a
very important time in their lives is rewarding."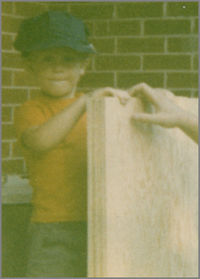 Earlier in my career, Thanks Dad.
Building Knowledge

Chris comes by his passion for home inspection naturally. Getting up on a Saturday morning at eight years old to help his father replace the family hot water tank was just part of growing up. Being in coveralls duct taped at the ankles and wrist a couple years later to insulate the attic was quality time with Dad. The cold shower and itching afterward are now fond memories and looked upon as the price of an education.
Demolition work and log home building in Prince George helped pay for college, while general construction and roofing in Whistler put him through university. Graduating with a degree in Industrial Design was followed by a career in Exhibit Design and Project Management.
As the projects grew larger so did the need for building modification and the interface between general contractors, engineers, code consultants and other specialty trades. Returning to Vancouver from working in Scotland Chris moved into commercial and residential construction management.
A desire to pass along his professional experience and to help others at a critical juncture in their lives made the transition into home inspection very natural. Twenty years experience in construction, design, and project management are reflected in the passion and attention to detail in each inspection.
Chris is an Accredited Home Inspector (AHI) with the Home Inspectors Association BC and licensed by Consumer Protection BC.