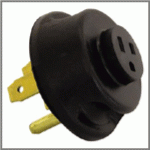 Electric to Gas Stove Conversion
So you want to convert your electric stove to a gas one. Obviously you'll need a gas connection. Some very basic gas stoves are still available with only a pilot light and do not require power. This wouldn't be very much of an upgrade for most people. Typically you will also need an electrical connection, for the electronic igniters, clock, fans, and lights of your new fabulous gas stove.
Electric ranges require an enormous amount of power and as such have large 220-volt plugs, larger wires, and a 30-amp breaker to handle the power. To be safe your new gas stove will only require a normal 110-volt outlet with a 15-amp service typically.
Before you call the electrician there is a plug adapter available. You simply plug your new gas stove into the adapter and then plug it into the existing range outlet. This adapter has a small 15 amp fuse built into to it to protect the wiring of your gas stove. It safely converts your electric range outlet for use with a new stove. This is a simple and cost effective solution at a little over thirty dollars.
If you are scared of the open flames of a gas stove, you may want to reverse the process. Trust me it happens. If you are lucky and an adapter has been used for the gas range. The conversion back to a electric range is done in three easy steps 1) turn off the gas & disconnect the stove line 2) cap the remaining gas line 3) remove the outlet adapter and plug in your electric range. When you say it fast enough it always sounds easy though we do strongly recommend using a qualified gas fitter. If the original installation was gas and there is only a 15-amp 110-volt outlet the process is more complicated, consult a certified electrician.