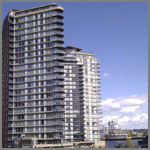 Understanding Strata Documents
We like to help our clients by reviewing strata documents. While these documents can be cumbersome and intimidating to some condo buyers in actual fact they are usually quite straightforward. As home inspectors we review and concentrate on infrastructure issues specific to the building. Other important financial and operational information can be culled from these documents. Here are some of the basics we have picked up along the way.
For the most part strata documents follow a set pattern. Understanding that pattern will save you a lot of time. These documents are boilerplates with small bits of pertinent information inserted from each meeting. Much of the information is superfluous and repeated in each document following governing laws. When you are buying a condo you need to be able to get down to the meat & potatoes.
Do I have all the documents?
Condo buyers are usually supplied 2 years of strata documents; council meeting minutes and the AGM's are a large portion of the documents. While council meetings usually follow some kind of regular schedule, once a month, it's not terribly important. All strata council meeting minutes are dated. At each council meeting the previous meetings minutes request approval. By comparing these two dates you can tell if you have all the minutes. Annual and special general meeting minutes follow similar dating practices. What other documents can you expect?
Form B Certificate is a general disclosure with the buildings financials, and strata rules.
Property Disclosure Statement is the owners understanding of the condition of the condo.
Condo Depreciation Report is a new requirement coming into effect in 2013 though some buildings already have them in place. This is an engineer report documenting the life expectancies and replacement costs of components that make up your condo.
Engineering Reports are very helpful documents, compiled by engineers to determine the condition of your building. You may find these types of documents referred to in your meeting minutes regardless of whether they are or not ask for them.
Warranty Documents if your building is newer it will likely still be covered under a 2,5,&10 year warranty, other warranties might include recent work like a new roof for example. The existence of these warranties is important however the content is best left to lawyers after a problem occurs.
What's wrong with my condo?
We concentrate on meeting minutes and engineering reports to determine and understand documented condo issues. We review these documents chronologically from oldest to newest. We record the date of the meeting and write any notes on work being conducted or deferred and deficiencies noted. As we continue through the documents we try to match up the deficiencies with their repair. We also try to look for any patterns that may exist. Water staining on the ceilings of 201,401, 501 and 301 may be a single pipe leak, where as ceiling stains in 501, 504, 506 and 508 may be more consistent with a failing roof.
Moisture is arguably the most destructive force for condominiums on a day-to-day basis. We are hyper aware of any supply plumbing leaks, drainage back-ups and water or moisture ingress. These issues can be related to common property like the roof, underground garage, and mechanical riser through the building or individual suite specific issues. Common property issues usually carry a much larger price tag.
It might surprise you to know lint blocking clothes driers vents are another concern we look for. Many condominiums have regular scheduled maintenance of these vents because they can become a fire hazard, not to mention inefficient, more costly to run, and your clothes take longer to dry.
How much do I have to pay incase of a special levy?
Many times there are common property percentages included the Annual General Meeting Minutes strata fee break down. That means how much of the building you own and how much you have to pay for. If it is not included simply divide your monthly or yearly strata fee by that of the entire complex. This allows you to understand what your portion of any special levy might be.
Unit 104 monthly $345.00 / Building monthly $21 500.00 = 1.6%
Special levy for the underground garage membrane $785 000 x .016 = $12 596.50
How much money is in my building's contingency fund?
The contingency fund amount is recorded in numerous places including your Form b, AGM's, and commonly noted in Strata meeting minutes as issues affect it. While the total amount is important this number can vary greatly because there are so many variables. Is the building new or old? Has it been well maintained or neglected? Has it already had a new rain screen or does it need one?
People are hopeful that the implementation of building depreciations reports in 2013 will help in determining if a buildings maintenance strategy, budget, and contingency are well synched. This is all in an effort to avoid the huge special levies owners incurred for leaky condos from happening again.
Is my strata council healthy?
You may want to know if have a cooperative council working for the good of the building. It can have consequence for the upkeep on the building. The following questions may help to determine the function of your strata. How many owners are showing up to meetings? How many are voting on resolutions? When there are resolution votes is there a consistent majority? Is that majority voting for the betterment of the building or simply deferring any cost that may be incurred personally? Ideally a large percentage of united owner's are participating in the council for the good of the building.