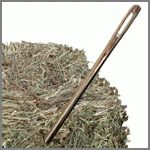 Haystack Home Inspections is all about finding those small clues that lead to larger issues in a home. We're able to see the trees through the forest or more aptly find the needle in a haystack. Have you ever wondered where such a strage expression came from?
Do you think finding the needle in a haystack is a term first used by:
a) 19th century doll makers
b) roofers
c) farmers
If you responded roofers you are correct. So where does the term actually derive from? Back before asphalt shingles, metal roofs, and torch on membranes many homes relied on thatched roofs.
These roofs were constructed of multiple layers of straw to shed rain. Roofers used large needles to sew sections of thatch (straw) together. You can imagine the Thatcher's frustration of dropping his needle off the roof only to have it land in a pile of his building materials below.
Though the needles were quite large at around a foot long they were made of wood. You have just dropped your wooden needle off a roof into a pile of straw and now you need to find it. The similar colour and size of the materials made finding the needle difficult.
That's why today when something is hard to find we say it's like trying to find a needle in a haystack. It is also why we thought it would make such an appropriate name for our company.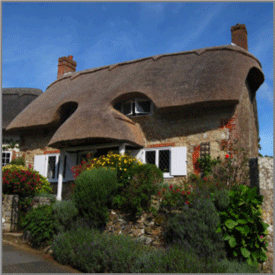 Thatched roof: Godshill, Isle of Wight
Photograph courtesy of Janice Heppenstall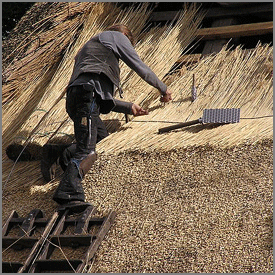 Thatcher at work